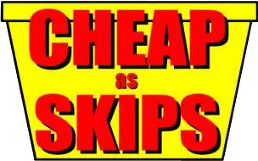 Skip hire specialists
If you are looking for skip hire services, you can contact the experts at Cheap as Skips.
Skip hire experts
Cheap as Skips offers a cost-effective, affordable, reliable and professional skip hire service in and around Huddersfield. We are a friendly, personal, family run skip hire company offering reliable service for domestic, trade and commercial use. Whether you need a small skip for waste removal or a large one, we can help.
Contact us today and we'll be happy to help you.
Permits from the local council
If a skip is to be placed on public property, such as a road, verge or path, then a permit from the local council will be required. This is easily arranged over the phone. It is our responsibility to arrange the permit as it is our skip. Costs for a permit may vary according to which council it falls under and the duration. Please call for a quote.
Short and long-term hire
We offer flexible short and long-term hires on our full range of skips for your convenience. For maximum utilisation, the skips should be filled level to the top of the skip. Waste should not protrude from the skip in any direction and should be secure. Please call our skip hire specialists for a quote.