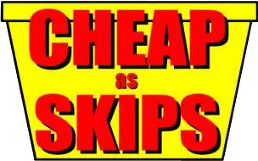 Local skip hire
If you need local skip hire, you can contact the experts at Cheap as Skips today.
Contact Cheap as Skips
For affordable skip and plant hire in Huddersfield and the surrounding area contact us today using the details provided. We try to recycle as much as possible, but inevitably some waste does need to go to landfill. We are inspected by the Environment Agency periodically throughout the year to ensure we meet with our permit conditions. All our wagons are operated under the DVLA. Employers and Public Liability insurance are in place.
LOCATION
Cheap as Skips, Unit 3-4 Viaduct St, Slaithwaite, Huddersfield,
HD7 5DD.