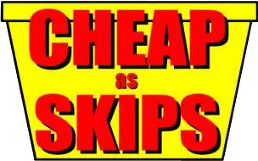 Demolition skip hire services
If you need a demolition skip, you can contact the team at Cheap as Skips today.
Affordable demolition skips in Huddersfield
We can provide the perfect skip for your demolition job. We have a huge range of skips in a variety of sizes and our same day service means your skip will be on-site and available to use when you need it. All our skips are competitively priced and we aim to provide a service that is second to none. We also own a waste transfer station meaning we can dispose of private, commercial, and industrial waste cheaply and efficiently..
Choose Cheap as Skips today for:
Competitive prices
Same day services
First-class services
Years of experience
A full range of skips for hire
Demolition skips and waste management
All your waste can be accommodated and managed efficiently. All the demolition waste is taken to an appropriate facility for recycling. Our waste transfer station open to both trade and public. Call us today for services in Huddersfield.
Our new fleet of vehicles come in a variety of sizes from 3.5 ton van based skip loader for getting in those tight places typical of this area, up to 18 ton wagons for those heavy loads.
Payment can be made prior to, or on delivery either by card, cash or bank transfer. Funds must be cleared before the skip can be removed.